Lesson 1: How To Sign Up
Welcome!
Who are we?
Loving Social Media is an online marketing agency here to improve your online visibility and profitability. How do we do this? By managing your digital marketing! Whether it's social media, SEO, you get the rest! We also hold regular workshops to help teach you how to use social media effectively for business.
We have strived to create the most comprehensive Google My Business course in the world for small and local businesses to help them navigate their online presence and generate some incredible results.
Lesson Objectives 1:
In this lesson, you will:
Learn how to create a GMB
Explore the Benefits of using Google My Business
Additional Resources:
Help Center Article:
Be first on Local search
What is Google My Business?
With a Google My Business Account, you get more than just a business listing. Your free Business Profile lets you easily connect with customers across Google Search and Maps. When you search for a product or service on Google, the first three listings are usually Google advertisements, followed by a map with the Local 3-pack, then the organic results appear. Google My Business boosts your visibility and effectiveness as a business and can help you reach the very top of Google's search rankings and fly high above your competitors.
Here are 8 Easy Steps on Completing Your Google My Business Sign Up:
1. Set up a new Google Account if you do not have one
It's quick and easy!
And click 'Manage Now'.
3. Enter your business name
If you have the same name as another business in your region, you'll see the autocomplete function suggest those businesses for you. This will allow you to see if your business listing already exists (to avoid accidental duplication), and to add a new GMB profile to an existing business if you've just opened a new location.
4. Enter your address of the business location and make sure it's the same postcode. Google needs to trust you!
Getting your address right might seem like the easiest part of your Google My Business listing, but you'd be surprised by how many businesses get this wrong
Look at your MOz local report to make sure all your address aline
Manage & Sync Business Listings
For local SEO, accuracy matters. Moz Local helps you easily create and manage your local business listings on Google, Facebook, and other sites to help consumers find and choose your business.

5. Specify service areas postcode/zip code or place example London
Before you can choose your business category, you'll need to specify the areas you serve, so that Google can accurately surface your business for searches in those areas, even without a physical address. Enter one or more regions, cities, or ZIP codes that your business serves.
We recommend forgoing this option and specifying regions, cities, or postcode max 10 to start you can add up to 20.
6. Choose your business category.
This is a very important field that will not only strongly influence the kinds of search terms you appear in Google for but also appear within your Google My Business profile. It's also something worth testing when you come to update your Google business listing.
If Google My business finds a close match, it will ask if this is your business.
While you are able to adjust this later (which will require re-verification – more on this later), we'd recommend researching competitors and looking through a full list to find the most accurate category for your business.
Some Google My Business features are category-specific. For example, hotel listings show class ratings and list any amenities offered. Food and drink businesses can also add URLs to their listing for online orders, reservations, and their menu, and they can even add menu items directly into GMB. Services and health and beauty businesses may be able to add a booking button to their listing.
These are just a few examples of the sophistication that Google is developing for GMB, so it's worth staying up-to-date on new additions to Google My Business.
7. Add a contact phone number and website URL
Neither is compulsory but is strongly recommended if you want to take advantage of GMB functionalities like call tracking. If you ever need to change this when updating your Google Business listing, be sure to make those changes to all other business listings, too.
If you don't already have a website, Google will even give you the option to create a new 'Google Website' based on the information you've provided. However, as we've shown before, there are plenty of reasons local businesses need their own unique websites.
8. Complete your Google My Business Verification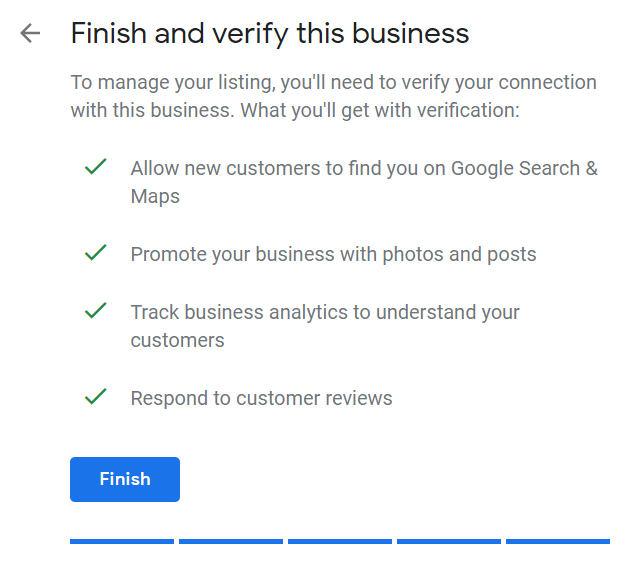 Google obviously needs to be able to prove that your business is where you say it is, and for entirely new GMB profiles, you have three options:
Postcard verification. This is the most-used verification process and is available to all businesses. With this process, a verification postcard will be sent to the address you entered earlier (it should reach you within five days). Once received, you can enter the code in your GMB account to verify the business. If your code doesn't show up, you can click the 'Request another code' banner at the top of the screen in GMB.
Phone verification. Some businesses have the option to verify their listing over the phone. You'll know you're eligible if you see the 'Verify by phone' option at the beginning of the verification process. Using this process, you'll receive an automated message with a verification code, that you'll then need to enter into GMB.
Email verification. Like phone verification, this is only available to some businesses, and you'll know you qualify for it if you see the 'Verify by email' option. This simple process sees you receive a verification code in the inbox of the Google Account associated with the GMB listing and entering it at the verification stage. Be sure you have access to this inbox before proceeding with this option.
The two other options are instant verification, which is only available if you've already verified your business's website with Google Search Console, and bulk verification, for businesses managing ten or more locations. You can read more about both of these options here.
What's Next?
Once you have an officially verified listing, it's time to optimize your Google My Business!
Now you can:
Add photos and videos to your listing
Write and optimize a compelling business description
Use Google My Business Q&As to understand your audience
Create Google My Business Posts to showcase offers and promotions
Add service menus and product collections
Encourage your most loyal customers to
Use the Google My Business app to
Update your business hours, location, contact information, and description
Post statuses and pictures
View search insights
Delve into and make use of Google My Business Insights, to learn things like:

How many people visit your website
How many people searched for driving directions
How many people called you
How many people viewed photos of your business
Conclusion: 
What are the benefits of using Google My Business?
You get to engage with consumers
There are a lot of ways consumers can interact with your Business Profile, and you use your Google My Business account to engage back with them. You can respond to reviews, answer questions, enable direct messaging, and set up associated alerts.
It highlights your business
A Business Profile alone contains limited information about your business. But through your Google My Business account dashboard, you can provide hours, a link to your website, products, and pricing, attributes, and other details that make your business unique. You will also use your Google My Business to make edits and updates as needed.
You gain valuable insights
You can use the Google My Business dashboard to gain key insights on your audience and local search performance. In the analytics tab of the platform, you can see the queries customers are using to find your Business Profile, whether they found you on Google Maps or Google Search, a breakdown of actions taken on your listing, and how your photos are performing compared to other profiles in your category.
Just as Google has algorithms for ranking its ads and websites, it also has one for ranking Business Profiles. Through your Google My Business dashboard, you can incorporate keywords into your Business Profile and perform other optimizations to help it rank in local results.
I hope you enjoyed the video, and make sure to take lots of notes as there will be an exam at the end!
-Jim Rohn
"Success is often achieved by those who don't know that failure is inevitable."